The Spirit Award Dinner began in 2004 to recognize individuals who have supported the efforts of the McNabb Center and Helen Ross McNabb Foundation, and have worked selflessly to improve lives in their community.  This year, the Helen Ross McNabb Foundation is pleased to honor Richard & Joni Maples at the 2023 Spirit Award Dinner.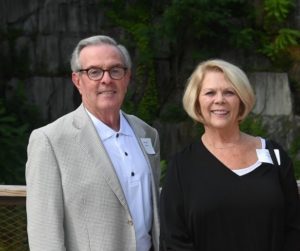 When: April 6, 2023
Where: Knoxville Convention Center
Time: Cocktails at 6 p.m., Dinner at 7 p.m.
Parking: Valet parking is available off Cumberland Avenue at the lower loading circle.
Self-parking is located at Locust St Garage.
For more information about the 2023 Spirit Award Dinner, contact Lindsey.stimets@mcnabb.org.
Previous Recipients
2022 – Mitch & Debbie Steenrod
2021 – Beth Haynes & Russell Biven
2019 – Adam & Jenny Brock and Wes & Liz Stowers
2018 – Sharon Miller Pryse
2017 – Joe and Melinda Connell
2016 – George and Cheryl Kershaw
2015 – Howard and Betty Blum
2014 – The late Emmet "Buck" Vaughn, Jr. and Linda Vaughn
2013 – Joe Mont McAfee and Kane McAfee
2012 – Bill Pugh and the late Henrietta Pugh
2011 – Bo Shafer and the late Mary Shafer
2010 – Rev. George Doebler and Nancy Doebler
2009 – Dale Keasling and Barbara Keasling
2008 – The George Sampson Family
2007 – The late Harry and Sarah Stowers
2005 – Hank Bertelkamp and the late Jane Bertelkamp
2004 – Dr. Joe Johnson
Table Hosts
Please Submit your guests' name for the 2023 Spirit Awards